Mike Webster - Pittsburgh Steelers - 1984 game used jersey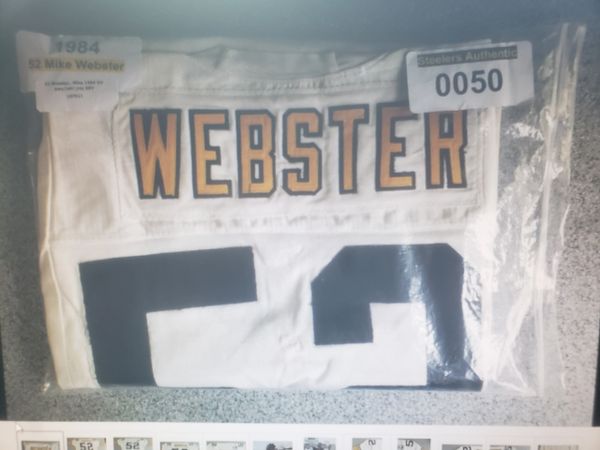 Mike Webster - Pittsburgh Steelers - 1984 game used jersey
1984 game used jersey with multiple (18) repairs.  This jersey is tagged 1984 and was used in 1984.  As was customary with Pittsburgh Steeler gamers in the 1970's some jerseys were worn for several seasons.        
This particular jersey could have been used during the 1988 campaign also. (See photos, but not for photo match purposes).  
I do not have information as to exactly what other years this was worn.  However, NFL teams are required to keep extra jerseys on the sidelines (trunk jerseys) for each player in case a jersey becomes torn or damaged during a game.  This particular jersey could have been a trunk jersey as well during the '85, '86 & '87 seasons.
Included and acting as 100% provenance is the plastic bag which notes player information and inventory data directly from the Pittsburgh Steelers archives.
Letter of authenticity from pghsportsgallery.com as well.
Thanks for looking!